MABARULI SCHAPIES MTB CHALLENGE 2021
AN ENDURANCE RIDE
Here it is. A FAMILY EVENT and a GREAT LONG-DISTANCE RIDE with your mates! Yip; bring the family and your "cozzie". "Ons gaan braai!"
HELLO, all Long distance Mountain Bikers! We would like to invite you to join us for a weekend away.
30 October 2021 | 251 km or 137 km| 150 Riders | Great Water Points | Family
It's time to show some sway with the The Mabaruli SCHAPIES MTB Challenge!
On your epic journey you will cross the Schaap River 3 or 6 times depending on your challenge choice. It's a 1-Day supported Mountain Bike Gravel Road event hosted in Eastern side of Namibia. You will start and end your journey at Ankawini Lodge near Dordabis. You will start at 2 am and end your journey at Ankawini Lodge, a few kilometers from Dordabis. Anti-Clockwise:(Farm road-11km, D 1249-46km, D1228-24km, C15-31km, C23-13km)
WHY ENTER? Here are a few reasons we thought of. You like your bike, long rides, and a cold one. Your kids would like to come along, ride their bikes, and play with other kids. (If you don't have kids, don't worry; there will be plenty) Your better half needs a break from a mask. You like to camp and explore new gravel roads. You need to test new stuff!
2021 & We have a NEW VENUE, 2020 was Epic at Stolzenfeld Saloon Campsite, but so many riders wanted a comfort room to sleep in! Thus 2021 our new Venue: ANKAWANI SAFARI RANCH! Bring mamma along, there is room choices for every budget!!
THE CHALLENGE INFO:
RACE DATE: 30 October 2021 – early start!!
REGISTRATION: 29 October 2021 at 17h30 at Ankawani Safari Ranch, Dordabis
RACE BRIEFING: 29 October 2021 at Ankawani Safari Ranch, Dordabis
ENTRY LIMIT: 100 pax (incl. riders and family)
RIDER ENTRY CHOICES & FEE:
All Inclusive are: "Dankie Tannie" bag, water points, photographer, sweeper, food, finisher medal, prize giving and lucky draws.
DAMARA SCHAPE: 251 km - @ N$ 900.00 pp.
DORPER SCHAPE: 137 km - @ N$ 650.00pp.
3 Great water tables every 50 - 55 km or so.
Nope, your better half doesn't have to support you. It's you, your bike, and fellow riders. The rest of your family will be chilling at the ranch or at a shaded water table on a comfy poof enjoining a cold one and bragging with your amazing talent.
KIDS ENTRY CHOICES & FEE:
PERSIAN SCHAPIES: @ N$ 150.00 pp. (15 km of farm road (12 – 15-year-old)
KARAKOELLETJIES: @ N$ 100.00 pp. (5 km of farm road (5 – 11-year-old)
ACCOMMODATION/ CAMPING:
Your can choose 1 x night (Friday) or 2 x nights (Friday & Saturday) Camping or Accommodated:
1. MABARULI "TENTE DORP"
Includes camping fee, tent, stretcher & mattress. (Mabaruli set up camp at the lodge)
1 PERSON per Dome Tent @ N$ 400.00 ppp night
2 PERSONS per Dome Tent @ N$ 300.00 ppp night (sharing)
CHILDREN (7-12 years) per Dome Tent @ N$ 200.00 per child per night
Bring your own pillow, sleeping bag or duvets.
You don't need to do a thing. Mabaruli Safaris will book your camping spot, pitch your tent, pack some cold ones on ice, and do the cooking, cleaning, and packing up. Joh! "Lekker"
2. OWN CAMPING
You can bring own tent, setup your camp 3 km away from Venue at designated campsite
@ N$ 190.00 ppp night.
BOOK YOUR CAMPING DIRECTLY WITH SVEN at sven@mabaruli.com
3. ANKAWINI LODGE ACCOMMODATION:
Riders/families are welcome to contact the lodge to book. They have a room for your budget!! Promise!
Use this link: https://ankawini.paytoday.com.na/schapiesmtb/
MEALS:
1 NIGHT MEALS INCLUDE: 1 x Dinner, 1 x Breakfast & 1x Lunch
ADULT @ N$ 400.00 pp
CHILD (6 – 12yrs) @ N$ 250.00 per child
MINIONS (0 – 5 yrs.) @ FREE
2 NIGHTS MEALS INCLUDE: 2 x Dinners, 2 x Breakfast & 1 x Lunch
ADULT @ N$ 750.00 pp
CHILD (6 – 12yrs) @ N$ 450.00 per child
MINIONS (0 – 5 yrs.) @ FREE
DRINKS: Ankawani Safari Ranch bar will have beer (with or without "skop"), red/white wine and soft drinks to purchase. Let's support them, Tourism has been affected very much with Covid!!
GPS NEEDED: Nope.
EXTRA: Is this a race? We want to call it a training ride, but you "mos" know what happens on the day…
BOOKING:
RIDER ENTRY, CAMPING & FOOD BOOK NOW WITH SVEN
sven@mabaruli.com +264 (0) 81 149 1024
ENTRIES CLOSE: 15 OCTOBER 2021
PHOTOS FROM 2020 EVENT:
MABARULI SCHAPIE MTB CHALLENGE GIVE BACK TO THE COMMUNITY:
GOCHAS MOBILE PAP SMEAR CLINIC:
Gochas is a village in the Hardap Region, located 110km southeast of Mariental and 64km southwest of Stampriet on the way to the Mata Mata border post to the Kgalagadi Transfrontier Park.
The G2R burn, a 240km cycling event hosted by Phil & Karmen van Wyk (owners at Kamelruhe Guesthouse in Gochas) are being held from Gochas yearly.
This event also supports a very worthy cause by bringing the Cancer Association Mobile Pap Smear Clinic to Gochas annually and testing just under 100 ladies from the community that would otherwise not get exposure to the service.
With 2020 G2R burn being cancelled, due to covid-19, we have pledge that with every Cycling entry into the Schapies Event we will donate N$ 50.00 per rider towards the Gochas Mobile Pap Smear Clinic. We have 20 x cyclist – making the first donation of N$ 1000.00 + N$ 500.00 from the beer draught sales for the weekend.
A big Thank you to the following persons who also donated:
N$ 500.00 from Lavender Hair, Health & Beauty
A Whopping N$ 2000.00 from Lambert Software Solutions
Total funds of N$ 4000.00 was raised, this will be used to test 80 x community ladies from Gochas.
If you would like to help or donate in any way, please do get into contact with Karmen van Wyk – karmenvw@gmail.com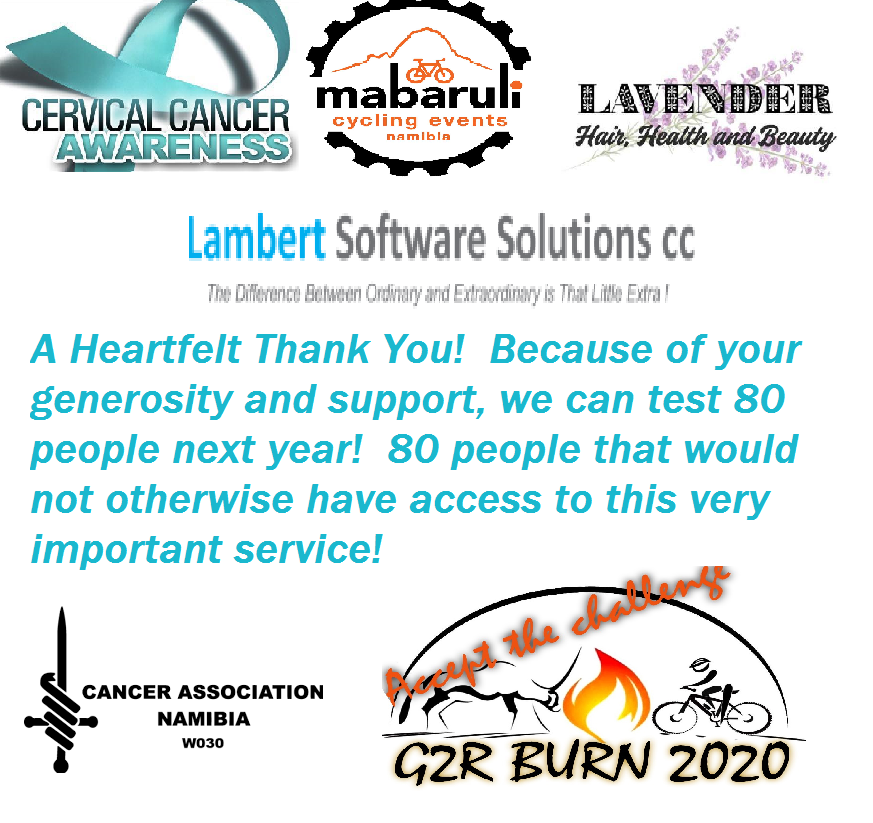 JOIN THE MABARULI - SCHAPIE MTB CHALLENGE FACEBOOK PAGE TO STAY UP TO DATE WITH ALL RELEVANT INFO:
Mabaruli - Schapies MTB Challenge | Facebook