Client Feedback
Although Mabaruli African Safaris are not listed on TripAdvisor, Safaribookings.com or other rated platforms, we have numerous clients that have been on tour with us, and whom have send us their personal "thank you's" and also comments from feedback forms after each tour.
Please email us your comments from your safari and send us photos too: info@mabaruli.com
11 Days Namibia Highlight (July 2021)
"Shane (our tour guide) was absoluetly excellent in leading us around Namibia, especially in COVID. Wonderful! We did Quadbiking - it was amazing. We also did an open game drive in Etosha. We want to thank you for such and amazing time in Namibia! It was always a dream for us to come to Africa and Shane and your team made that possible! Thank You!" – Caterina & Adam Lazor (Canadian)
12 Days Cycling Namibia (March 2020)
"Informative, Personable guide (Stefan) with a great sense of humor. Free wifi is a must everywhere. We were only a group of 5 so the trip was extremely comfortable & adaptable. Good food available. Campsites often lacked basics, ie soaps to wash hands, paper towels & towel rails/hooks. – Rob & Annabell Campbell (British)
12 Day Cycling Namibia (March 2020)
"Guide Stefan & Driver Michale were friendly, accommodating & very knowledgeable. Would fully recommend them, very sad that we were unable to complete the tour due to the need to returned home due to covid19. – K Layton (UK)
13 Day Family Namibia Safari (August 2019)
"information was exceptionally good, service as well. Really fun tour thanks to a good/funny tour guide – Angelo, good driving & very nice food made by Happy & Mcloud. Great family tour – well balanced activities – hearty tasty food, friendly & knowledgably guide. – Kennedy Family
13 Day Namibian Holiday (July 2019)
"We had an excellent time. Namibia exceeded our expectations an fern us of its beauty and variety of landscapes. The wildlife was spectacular and the tour was brilliant fun due to the knowledge and enthusiasm of Shane & Jonas" Pauline Gandee (British)
5 Day Etosha Safari ( July 2018)
"Our Guide Angelo very helpful 7 went above & beyond to ensure we saw all animals & had the best opportunity to see them." – E Morrison (UK)
13 Day Self Drive Namibia (July 2016)
"We're safely back home after this exceptional trip - surely one of the greatest of our life. Thank you so much for all your help and bookings, we were fully satisfied with the car and the accommodations, though it was cold at the tent camp. Best regards and thank you once more - I'm coming to recommend you to friends and colleagues." - Thomas (Germany)
Tailor Made - 10 Days Namibia (June 2016)
" This was my second visit to Namibia - both with Mabaruli. If I come again, I will contact Mabaruli" - James (USA)
"Experience of a Lifetime!" Thank you!" - Richard (USA)
"Ben was an amazing guide - energetic, informative, helpful and always ready to adapt to our wishes." - Sabine (USA)
Tailor Made - 15 Days Okavango Delta to Windhoek (June 2016)
" Well organized. Good Service. Good Staff. Good Experience." - Alex & Friends (Chines & Malaysian)
7 Day Namibian Highlight ( May 2016)
"Ronney is an excellent tour guide highly informative, making you feel like family and always willing to go the extra mile to make you feel at ease and comfortable. He is the best!" - Lorelli & Pierre (USA)
3 Day Dunes (April 2016)
"We did really enjoy our trip and our stay at Weltevrede!" - Franziska (German)
"Lovely story where the name Mabaruli comes from. Relaxed, interesting landscape." - Karina (German)
7 Day Namibian Highlight (March 2016)
"Overall great tour + excellent choice of sights in Namibia. Good flexibility as well as structure + planning. Thank you, Shane was excellent, + his familiarity with everything + extensive experience really added positively to the experience." - Colleen (USA)
"We had a great tour and would recommend to others! Shane was an excellent tour guide!" - Thayne (USA)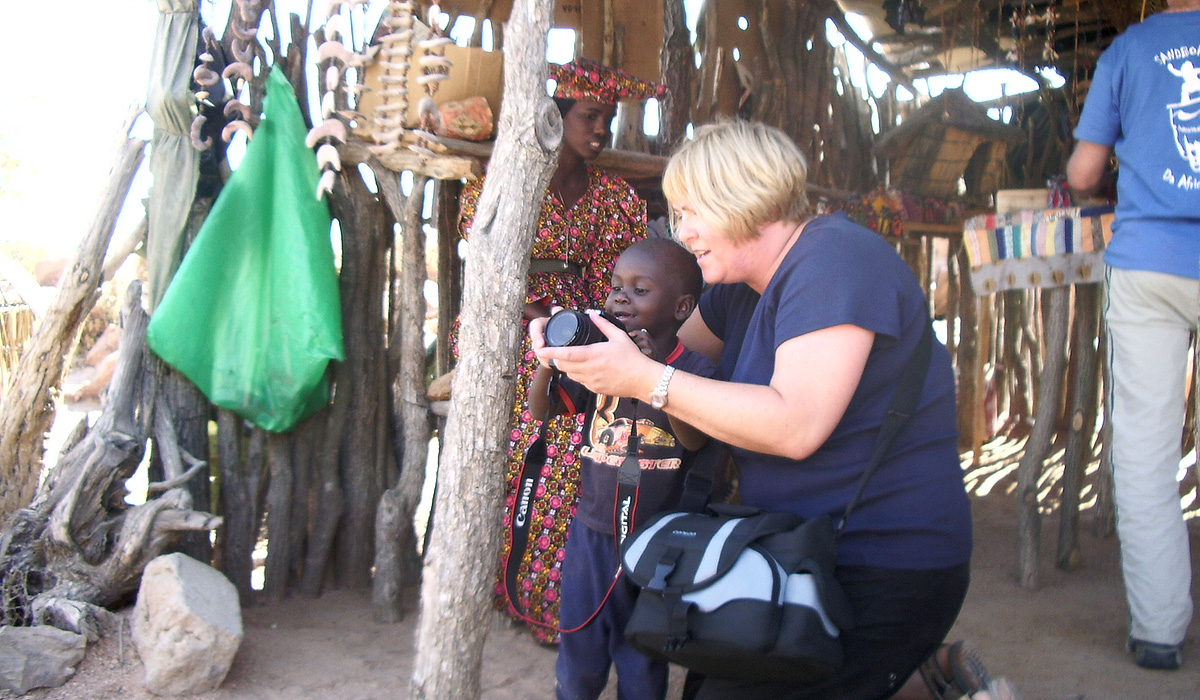 3 Day Dunes (February 2016)
"I was really impressed with the guide's knowledge of wildlife and ability to spot animals" - Helen (British)
"Had a fantastic time, Ronnie was excellent, were satisfied at the guesthouse. Fantastic activities." - Katharine (British)
3 Day Etosha (February 2016)
"Shane is excellent. Will see him again for next trip!" - Michelle (USA)
"Great experience, Shane was a great guide" - Anisha (USA)
7 Day Namibian Highlight (February 2014)
"So well organized, everything went smooth, nice well-cooked breakfast, nice breaks. Ronnie excellent game spotter!! And very informative. " - Martina (Sweden)
"Great vehicle and itinerary, but what made it fantastic was the guide, Ronnie. One of the best guides I've ever had the luxury of travelling together."– Torbjorn (Sweden)
Windhoek to Livingstone Tailor Made (May 2014)
"Hi. We had the holiday of our lives!!!! Our tour guides are fantastic; they go out of their way to make the tour extra special to us to. Such awesome people, they seem like our best friends and we are treated to the best food on the fire. They have excellent sense of humor. The truck is so nice, the time on the road is actually very nice as we socialize, play music ect. We saving already again for our next trip with Mabaruli. Victoria falls is absolute a highlight, a big dream come true, got soaking wet, but was so much fun. We enjoyed Ngepi so much. All the places were picture perfect on tour. Our tour was so well planned, every day is nice and at a very special beautiful places. Definitely a holiday where we also rested out. So great to do the trip with our best friends and also with Mabaruli. Best time ever! Really it was a very special vacation." - Ian & Marilie Snyman/ Tian & Anemie Franken (RSA)
Windhoek to Livingstone (July 2014)
"This tour was phenomenal, but it was made so much better with Ewald. He was knowledgeable, kind and patient. He was truly concerned about us getting experience info on all animals and culture and great photos. A great tour guide!" - Van Loo Family (Switzerland)
"We will recommend Mabaruli, Shane and Happy to everyone!" - Family Visser (Dutch)
Windhoek to Livingstone (August 2014)
"Ronney was really an excellent guide. Our holiday would have been different without him." - Kerkhove Family
13 Day Windhoek Cycling (September 2014)
"We really enjoyed this tour and the Guides were each time friendly and competent. We felt save all the time. Thank you very much." Verena & Baesel – Germany
14 Day Namibian Tour - Tailor Made (November 2014)
"Ronney is perfect guy and Jonas is Master Chef for International Restaurant!" – Peter Martin (Czech Rebublic)
"I'm so satisfied; Namibia is very nice Country, Thanks for all guys!" – Jana (Czech Rebublic)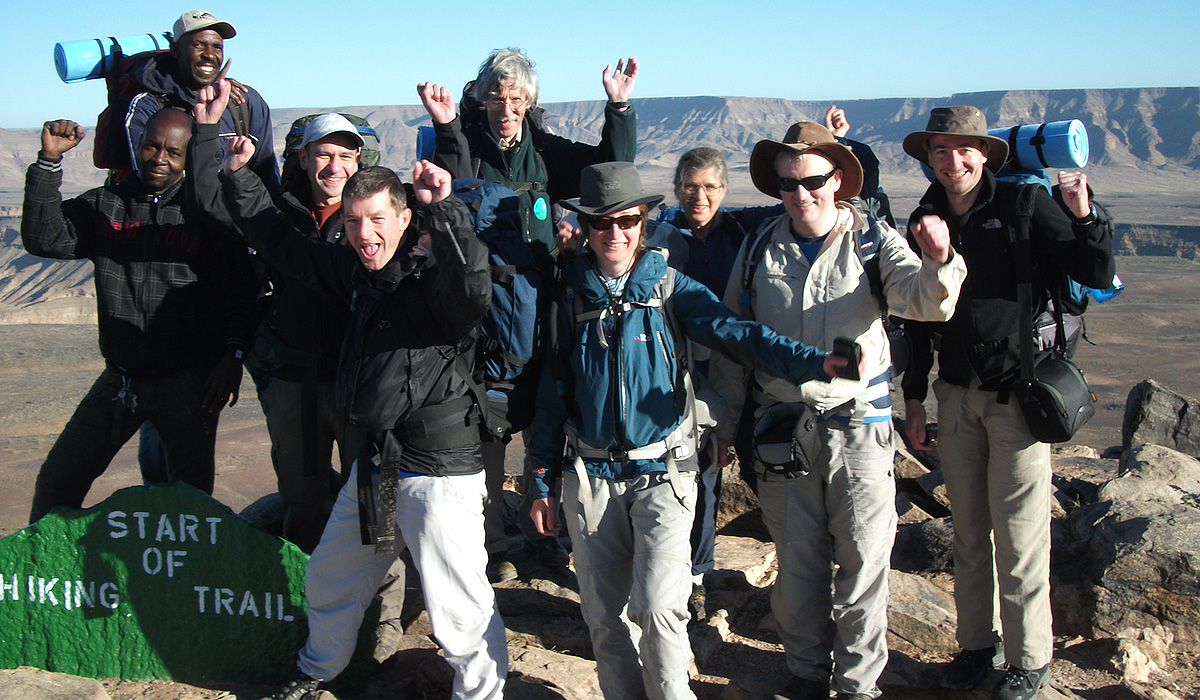 13 Day Windhoek Cycling (December 2014)
"Absolutely awesome team leading the tour. Loved every moment of the trip." – Diana (UK)
"Very enjoyable tour with strong emphasis on safety by crew, which is key to a successful trip. I would recommend this tour as balance between activities and transfers are good." – Mark (UK)
8 Day Bushman & Delta Panhandle (August 2011)
"This tour was phenomenal but it was made so much better with Ewald. He was knowledgeable, kind and patient. He was truly concerned about us getting experience info on all animals and culture and great photos. A great tour guide!"
Heather Kaveney (USA)
7 Day Namibian Safari (August 2011)
Excellent Tour!
Henrieko & Monique van Werven
19 Day Namibia and Botswana Family Safari (July 2011)
"Great vacation! Beautiful countries! We look forward to come back in a couple of years, Sven and Gecko are a great team. They made us feel very welcome in their own country. Excellent!" Erick, Debbie, Nova and Tygo van Ham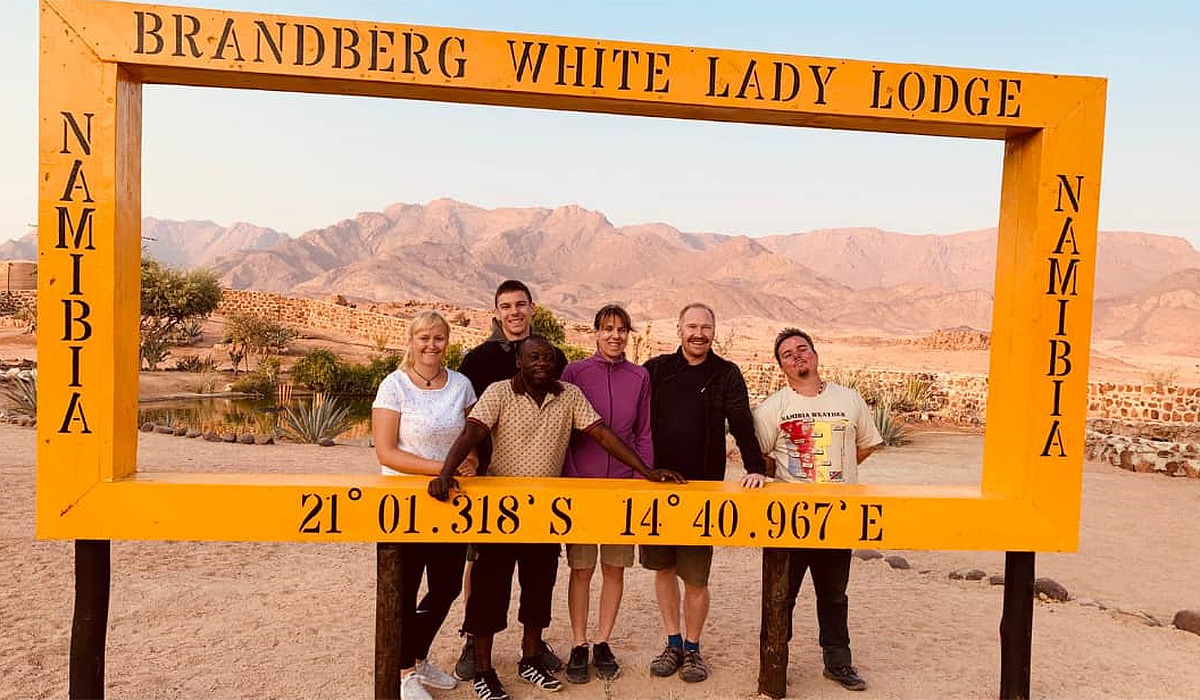 Tailor Made 22 Day Namibian Safari (July 2011)
"Again thanks to the whole Mabaruli-team to give us the opportunity for a great visit in such a huge and beautiful country. Meanwhile we like to send our very best regards from Belguim."
Patrick, Ann and Arno
Check out Youtube videos from Patrick's safari:
12 Day Namibian Safari (August 2010)
"We have good remembers, and we expect to come back as soon as possible. We enjoyed a lot our trip. Last day, we ate in Joe's Beerhouse and we tried crocodile, springbok and ostrich. It was really nice, like all dishes you prepared during the tour."
Albert Olga (Barcelona)
5 Day Dunes Safari (March 2010)
I had a fantastic time. I was fortunate enough to be the only person on the tour! I was extremely grateful that the tour was still continued as I would have been bitterly disappointed had it been cancelled. Samora, my guide was pleasant, courteous, fun and extremely knowledgeable and interesting. To be honest, Namibia was definitely the highlight of my tour and the other countries in Africa struggled to match it. I will definitely be visiting Namibia again and I will be bringing my father along with me." Scott Robinson (Australia)