Covid-19 protocols on our tours
Mabaruli African Safaris has always kept safety, health, and cleanliness a top priority on all our tours, even before covid-19.
Our on-tour guidelines & Protocols for Covid-19 are as follow: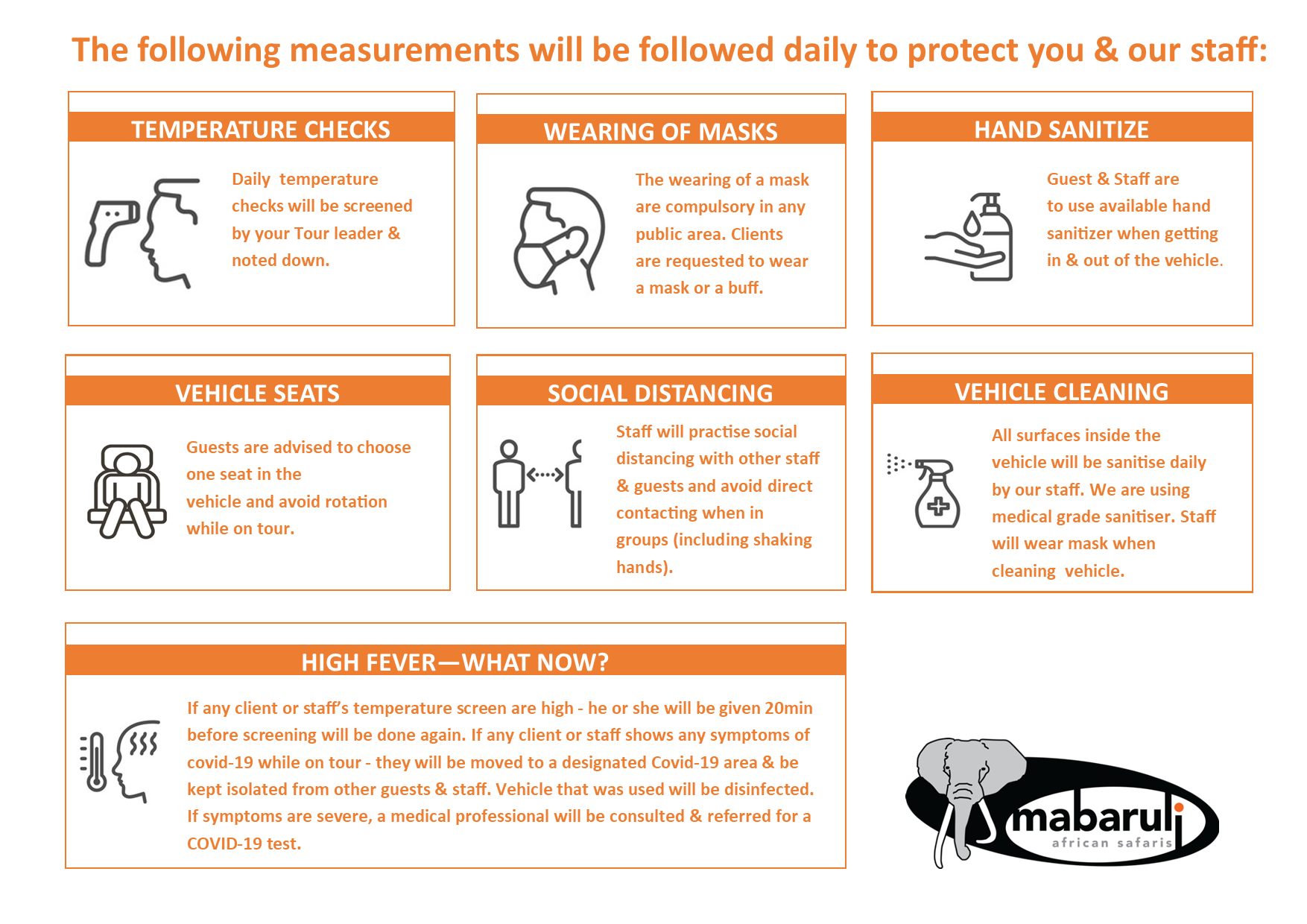 1. Face Mask Wearing
All travelers on our tours are required to wear a face mask.
2. Our Tour Guide & Staff Health Standards
All our Guides and camp assistants are trained on how to follow the Covid-19 guidelines and hoe to handle a case once its confirmed. Our staff are equipped with personal sanitizers, gloves, facemasks.
3. Social Distancing
On tour we do follow the social distancing guidelines. We ensure each guest on tour is 1.5 meters apart
4. Temperature Checks
Everyone is subjected to mandatory temperature checks before, and while on tour.
5. Sanitizing your Hands
Sanitization will happen before boarding our vehicles, or any accommodation or camp. It is therefore recommended to sanitize your hands when in public places and when interacting with people.
6. Seating in our vehicles
While in Namibia, there is currently no restriction on capacity of passengers in vehicles. Rest assure that we sanitize our vehicles frequently.
7. Wash hand regularly
Our Tour Guides will regularly set up a hand-wash basin on tour with water & soap. It is recommended to wash your hands frequently, this helps in keeping your health safe, especially if you have interacted with people, eg Dining
8. Fumigation of our Vehicles
Our vehicles will be fumigated before and after each tour. Door handles will be sanitized, seats will be fumigated.
9. Accommodation used on our Tours
All accommodation in Namibia needs to be registered as a COVID-19 safety approved accommodation and are following strict protocols in their establishments and camps. We only use these registered accommodations and camps while on tour.
10 . Namibia Tourism Board – Tour Protocols
Not only do we follow our Companies on Tour Protocols, Mabaruli African Safaris are also following the Namibia Tourism Boards (NTB) Guidelines for operating procedures for tourism entities for covid-19.
CURRENT COVID-19 ENTRY INFORMATION FOR COUNTRIES ON OUR TOURS:
Namibia

- Negative Coronavirus (COVID-19) *PCR test result issued at most 72 hours before their arrival.
This requirement also applies to anyone who has been vaccinated against COVID-19 – a negative test must still be produced before entry into the country. Antigen Rapid Diagnostic Test results are not accepted for entry into Namibia.
Botswana

- New Requirmennts as from 14 February 2022
ALL Persons entering Botswana should show proof that they have been fully vaccinated.

- Fully vaccinated means having taken two doses of a two dose vaccine regimen or single dose od the Johnson & Johnson vaccine. If one has taken any of the two and is overdue for booster shots, they are no longer regarded as fully vaccinated untill they have taken the booster shot.

When a person is NOT fully vaccinated, they will required to present a 72 hour negative PCR Covid-19 test result and undergo Covid-19 vaccination at the port of entry, which will be facilitated by the ministry for free. After vaccination, thwy will be allowed into the country.

PROOF OF BEING FULLY VACCINATED IS NOW THE MOST IMPORTANT REQUIREMENT FOR ENTRY INTO BOTSWANA.
Zambia

- Negative Coronavirus (COVID-19) *PCR test

result issued at most

72 hours

before their arrival.
Travelers coming from a country designated 'high risk' by the Government of Zambia will be subjected to a Covid test at the Points of Entry, even if they have a negative PCR test certificate. Testing at the Points of entry will be done at the travellers own cost and results can take up to 48 hours. Mandatory self-quarantine will be insisted for all travellers from high-risk countries; however, the 14-day quarantine will be discontinued once the Negative PCR test results comes back.
The current list of "high risk" countries is Argentina, Columbia, Chile, Brazil, Netherlands, Belgium, India, Peru, Iran, Turkey, Iraq, Spain, Tunisia & Iraq. This list is liable to change at short notice and with minimal publication.
Test can be done at following facility in Livingstone:
Med-Prof, 432, Mushili Way Livingstone, Zambia, tel +260 976980177, medproflivingstone@yahoo.com.
WhatsApp +260 977772092 / Time for test 24 to 48 hours. / Price: 2100 kwacha. /Plus 500 kwachas to pay for travellers certificate.
Zimbabwe

- Negative Coronavirus (COVID-19) *PCR test result issued at most 48 hours before their arrival. They could be required to undergo a further PCR test on arrival.
ALL *PCR Test must be a printed medical certificate, in English. Electronic copies of the certificate will not be accepted.
Please Note: The above information has been researched with the utmost care. However, information & each countries travel regulations due to Covid-19 change regularly. Thus, the above information could change any moment.
T

he above information is up to date since 21 FEBRUARY 2022
We are merely acting as a facilitator in order to assist our travellers who require a Covid-19 test. Your tour guide on tour will help you in his own capacity to get to the medical facilities on time & to do your tests in time to cross over to Botswana. But do keep in mind these facilities also can change their testing times without prior notice & it also depend on the number of test queuing before your test. Sometimes, there is a delay in the time of your results due to the lab's results time. You as our guest are solely liable for settling all Covid-19 PCR related fees and cost which are paid for on the ground at the time of testing. All testing is carried out by third parties with no association or affiliation to us or our Agents and we are not liable or responsible for any issues, delays or problems encountered during testing process or performance or non-performance of the testing facilities which can also lead to any extra costs.
Extra cost could be another night accommodation in Namibia if there are a delay in test results. We will however help with any changes, if necessary, needed to be done on the itinerary.